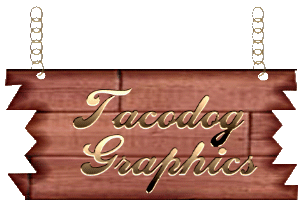 This site is moving to it's own domain. Please update your bookmarks and links to:
http://www.marysgrahics.com/tdg.html
Content currently at Tripod will remain for now, however NO updating will be done to the pages on this server. This move is a direct result of Tripods new 20mg limit which left no space for more graphics.
Hello, welcome to Tacodog Graphics. Here I offer FREE & Custom graphics for you to use on your site. Some of my graphics are very colorful because I enjoy color!
The graphics on this site can be used on your site as long as you put a link back to me on EVERY page you use them on. You can use the set banner or you can just use a text link. A link is all I ask and I don't want it put on a "LINKS" page, because people will see the graphics, but wouldn't know I made them.
You can resize the graphics if you know how, and add words to the blank button, but don't change them in any other way, please respect my wishes, I did put the time and trouble to make them and make this site.
If you don't see your breed, I will make you ONE free set with your dog photo, to use on your site and mine. After the first free set, each set will be $5.00. The FREE sets on this site consist of ONE background and ONE blank button for your use.
If you send a photo you MUST be the owner of the dog/dogs in the photo! I will give you credit on the graphic page made with your photo.
If you want a personal FULL set that I will not use on my site, then you can have one for $20. A FULL set is NINE backgrounds/wallpapers, ALL the buttons premade that you need, an icon/divider.
Please enjoy my site and my graphics. I enjoyed making them and seeing them used, so if you use them drop me a line and let me know! I am always busy making new graphics, so please come back!

MY BANNERS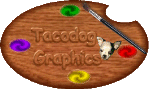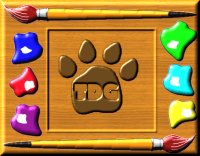 Know when I add graphics to my site

Click to subscribe to A_New_Background

Other Dog Graphics